An insiders Guide to Galle, Sri Lanka.
Galle, a stunning beach town, two hour's drive from Colombo, down the spanking new Chinese-funded highway, is the perfect Tropical getaway for anyone looking to skip their European Winter.
So earlier this year, before Covid 19 erupted, I flew to Sri Lanka for my first visit to avoid January Blues and to catch up with a dear friend, Henri Tatham, ('Henri') who has been living here for 18 years.
Party-Girl Henri literally knows everyone in Galle and it wasn't long before I met most of them too.  The night life is vibrant and the cocktails sublime!  Bars varied from The old Diving Centre in Unawatuna to the new precariously high Lighthouse with live music and passion fruit mohitos!
Henri and Korkola, her Sri Lankan husband, have two lovely villas, one of which Villa Spicy,  Ginny, my best friend and I stayed in.  We couldn't have felt more at home or better cared for in this homely & colourful two bedroomed house.
We were a two minute walk from Wajiya beach and it's groovy café owned by Korkola's best mate, Mehindra or a tuk tuk ride from any number of Ibiza style beach bars with pools like kk Beach bar.
Henri and Korkola are now expanding their Kikili villa portfolio and are building three more houses on a new plot of land set behind Wajiya beach overlooking a lush paddy field.  When I visited the walls were up and the hole for the new swimming pool was dug. They are hoping all three properties will be ready to rent by Christmas.
Should you decide on getting married in Galle Henri can also conduct your wedding ceremony since she is perhaps the most fabulous Wedding Celebrant ever!
Round the corner from our house is Idle Bikes.  Brit Alex, like Henri, has lived in Galle for years. Idle Bikes now employs a fabulous cycling team of Sri Lankans, one of whom, Hasitha led me on a stunning 24K bike ride on flat dirt paths that meander through the lush paddy fields past buffalos ('little elephants') and under Kingfishers perched on telephone lines.
After warning me not to swim in the lake for fear of crocodiles, Alex told me how he ended up in Galle.
Alex Barrett, Idle Bikes
Alex grew up in Norfolk and was working as an investment surveyor in London. When, after being laid off, he was looking for somewhere to "get a tan, read some books and decide what I wanted to do", he decided to come to Sri Lanka.
"Idle Bikes is really about pootling into the countryside, not feeling the burn!   I didn't set it up as a business idea, more just a fun thing to do at that time – the locals are really friendly and the paddy fields so pretty."
For myself, I loved my bike ride and getting up close and personal with water lizards, Egrets, and Peacocks.  The area we biked around was flat and the roads really quiet.  Even passing dogs ignored us, so used to people peddling past each day.
One British couple whose business is booming  are Annie Jago and Ben Lloyd. Their trendy café and apartments – The Shack Beach Cafe – are family friendly and very popular with locals and surfers alike. www.theshackbeachcafe.com/
Annie and Ben have turned an unloved part of the coast into a super cool and family friendly café, with a surf school attached and soon to be opened alcohol free pizzeria to encourage local clientele.
"We have a loyal local client base and are not totally reliant on tourism.  We started out by building a house here which we sold to invest in the café.  We  helped to organise clean ups with the locals to help beach combing and slowly turning it around."
The café is right on Dewata beach, now a clean stretch of cream sand with no rip, rocks or coral making it the perfect beach to learn to surf.   They also have apartments to rent and Ben and his business partner John have a motorbike touring company using Royal Enfield motorbikes. (extremebiketours.com)
If it's a bit of retail your after and you wander into the ancient Fort itself you'll come across Lindsay Antoni's Tallentire House tallentirehouse.com selling Lindsay's designer fabrics and well as a range of her home furnishings.
After studying weaving and design at Chelsea School of Art she ended up setting up a business with Darcey Bussell– Bussell and Taylor – selling beautiful things to the Conran shop and various outlets in New York.   Lindsay then moved to Namibia with her husband and learned how to make pots, now for sale in Tallentire House.  Moving from there to Sri Lanka, Lindsay bought a house in Ahangama district – then untrendy but now hugely popular – & she noticed that there weren't any good quality fabrics to buy so she decided to design some.
"I realised that the fabric needed to be hardwearing to survive the climate here in Sri Lanka so set about designing a collection,  sourcing the base fabric and having it printed in the South of India."
Once Lindsay had furnished her own house, all her friends and family loved what she'd created and she knew that she'd found a gap in the market.
All the prints at Tallentire house are Lindsay's own design, inspired by, for instance, feathers, seeds or an antique gate she passed.   They are then printed and woven in India all by hand and with incredible skill and made into finished products in Sri Lanka.
Lindsay's collections are two fold: either screen printed furnishing fabrics produced in the south of India designed for hard living;  or hand woven, hand embroidered limited edition pieces produced in Kutch where she has worked with individual artisans since her Bussell and Taylor days.
When she first started out her colours were bold and bright but she realised that the majority of tourists didn't buy such flamboyant colours for their homes in eg Cotswolds.   Second and subsequent collections are a little mellower. Pastel shades that all compliment each other with delicate designs that would enhance a city flat in Hong Kong or feather a drawing room in Scotland in  equal style.
Lindsay's now renting a stunning 18th Century Dutch House for her wares but when she started out Hen introduced her to Jo Eden and she was using part of Jo's MimiMango's shop to sell her textiles.
Jo and Jack had been in Hong Kong with Hen in the early 90's and moved to Galle twenty years ago.  They were the second foreigners to develop a house in Galle Fort. 63 Peddler Street which is a hub.
Jack runs www.villasinsrilanka.com / www.edenvillas.com and is a pillar of the community. Employing over 80 people and managing 25 high end villas in the south.  Their service and reputation is second to none.
Seeing a gap in the market Jack set up www.galleevents.com – the most well run and prestigious Event company in the south of Sri Lanka.  When I was there I popped in to see Hen as a Wedding Celebrant at a wedding that Jack's company had organised with impressive vision : There were palm trees wrapped in fairylights; a local excellent band (The Drift) and a pool filled with fish.
Most of the expats I met were either wearing Mimimango dresses or the 'Jenny 'dress from The Old Railway, a shop just outside the Fort's walls  owned by British designer Catherine Rawson.
Born in Yorkshire, Catherine was first taught to sew and knit as a young girl by her Granny and went on to study fashion design at Central Saint Martins.  She met and married husband Rasika in Galle while teaching at a Montessori school and renovated the shop in January 2011.
"We opened the shop first and then the café upstairs.  It was really slow to start with and I was carrying on teaching but then one of the parents of the children at the school bought a Jenny Dress and wore it to a big party that weekend and then it just snowballed.  People started writing articles and I was asked to take part in Colombo Fashion Week.  I've ended up specialising in casual beach holiday clothes in the Galle shop but I do something much more urban in Colombo."
For myself I bought a pink and white Jenny dress and some silver jewellery for my daughters.
Banyan Camp
If you want to venture out of Galle I can highly recommend the magical Banyan Camp– set up by Sohen, one of Henri and Korkola's closest friends.
It's completely 'off the grid,' an eco-retreat in deep rural Sri Lanka. Sohen, and his delightful family are often in residence and have created a unique lakeside haven where 'humans are few and nature is plenty.'
The Banyan Camp website explains :  ,The line between civilized and wild is blurred as are the lines between inside and out. Everything from the scavenged doors and windows to driftwood furniture, re-used bottles, re-invented trucks, and even the local food fare is a practice in the delicate art of simplicity. We have always lived true to the philosophy – 'less is more' and through it discovered a lifestyle that is fun, fascinating, chilled out, inspiring and just sublime.'
During our stay, we had a curry aboard a raft replete with fairy lights and musicians; a swim in a stunning waterfall and an amazing elephant safari.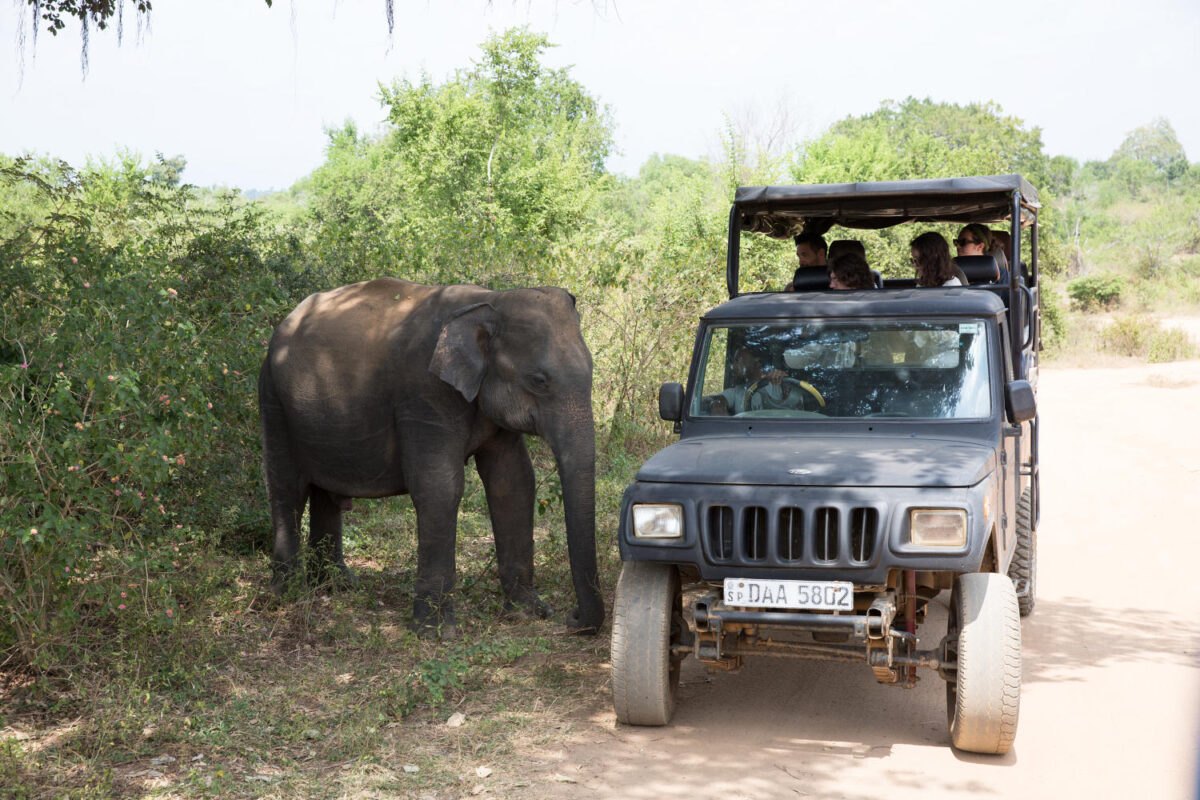 Nine Skies
www.teardrop-hotels.com/nine-skies/
Slighty further from Galle (about a five hour drive) but well worth the journey, especially by train, is the legendary Nine Skies at Ella, in the heart of Sri Lanka's tea country.
Nine skies, named after the legendary bridge a short walk away, is in fact a refurbished tea bungalow with five stylish bedrooms and exceptional service. It feels a bit like staying with family but with the added advantage of being spoiled rotten – Delicious home cooked food including a ridiculously lush traditional English tea and an extremely well stocked and funky drinks cupboard.  The infinity pool is perched amidst Rhododendrons and Azaleas and gazes over the famous Demodera Loop and valley below.
My friend and I walked along the railway line to the Nine Skies Bridge and had a fascinating tour round the tea factory adjacent to the hotel.  We borrowed the hotel bikes and learned how to make a daal from the Hotel's excellent chef (though why is that when you have a menu and you buy the herbs that when you try to recreate it at home it never tastes the same?)
Places to stay in & around Galle
Why House
Home from Home with the lovely Henrietta Cottam (also known as 'the other Hen'!  and her Dachshund Nigella (Jelly to all)  With her background in Hospitality and primarily Catering for large estates and events the cuisine at Why is right up there.  Her knowledge of local produce and food is interesting and inventive, safe and comforting.  From Hopper nights and a slick Cultural experience to Quiz nights for locals testing new dishes  – the best cheese toasties in Sri Lanka and check out the banana chutney.
This 12 bedroomed extremely comfortable colonial style house with a perfect pool, is a lovely safe central hotel to stay in with a difference. Its set back off the beaten track but 5 minutes from where you want to be.  The guest book oozes compliments for Hen and her team.
Kikili Beach House
(The only 1 bedroomed Villa with Chef and pool on the south coast!)
Bring a little colour into your life in this 1 bedroom catered beach house stuffed with character.  From cocktail bar to chill out zones you'll be wanting to have your friends round to share til' the wee hours in this piece of paradise on Dalawella beach.  Sleeps 2 in funky comfortable style, with your needs taken care of by the fabulous Kumara – House manager, cook, shopper, smiley companion extraordinaire.  It's a perfect Honeymoon spot but also an extra bed can be placed in the one a/c bedroom for friends or children.
Wajaya Beach 
Mahendra's new apartments back onto his trendy beach bar which is now a hub for an international crowd.  Creator of the Sri Yoga Shala close by with comfortable rooms there too, he is always busy.
Villa Spicy
Set back from the beach a little and with a family of female staff, this groovy little 2 bedroom house is the perfect location for laid back fun.  2 mins from Wijaya beach but with it's own gardens.  Water feature includes a fuscia pink old bathtub in front of the Chinese day bed!
George Cooper, a British interior designer from Gloucestershire owns the elegant www.kkbeach.com where you can stay in style or spend the day lounging by the lovely pool.  His key property is the renowned Kahanda Kanda luxury hotel inland known as KK.
www.theshackbeachcafe.com – Three apartments near the Fort, Top spot for family fun, surfing and pizza beach side in Dewata, a local beach area close to Galle Fort.
Things to do in Galle
www.idlebikes.com – Have a guided 'pootle' in the countryside with one of Alex's fabulous team
www.tophouse.lk – The best Cinnamon Tour at 
www.mimimango.com – For Beautifully crafted dresses  and pop next door to the famous www.poonieskitchen.com the only organic café in the fort.
theoldrailwayshop.com – Have a look at the jenny Dress and go upstairs for a cup of tea and cake.
tallentirehouse.com/ – Soft furnishings & gorgeous fabrics to finish any house
Instagram – At Sea Waves Restaurant, lovely informal cookery class including a trip by Tuk Tuk to the fish and vegetable market and lunch.